Road closures in downtown Fernie March 3rd – 5th for the 2023 Griz Days Festival
Griz Days 2023 is just a few days away and the annual downtown parade is returning to the Fernie downtown core this Saturday, March 4th, along with festivities leading up to the parade.
The Fernie Chamber of Commerce & Griz Days Committee would like to advise the community of the parade route and associated temporary road closures and modifications in effect for Griz Days 2023 taking place March 3rd to 5th as approved by the City of Fernie.
To support events taking place in Station Square, 1st Avenue will be closed from 5th street to 6th street beginning 7am Friday, March 3rd with limited vehicle access to this area until the morning of Sunday, March 5th. Businesses and the public are asked to avoid parking in Station Square and the downtown core for the duration of the festival.
On Saturday March 4th, 2nd avenue will be closed from 5th to 6th street from 7am until 7pm. The remainder of 2nd Avenue from 4th street to 7th street will be closed from 2pm until 7pm for the Griz Gone Corduroy Parade. The closures are outlined in the attached photos and on the Fernie Griz Days website.
We thank the public for their cooperation in keeping these routes clear for the parade and associated festivities, and for abiding by all signage and direction given by the City of Fernie staff and Griz Days volunteers.
Thank you for your cooperation!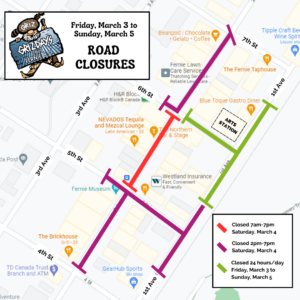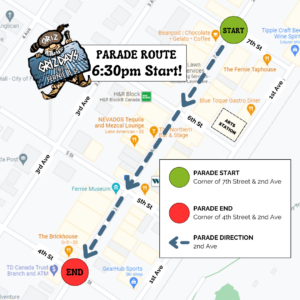 #FernieGrizDays #FernieStoke #GrizDays #SupportLocal #Community #Tradition #Celebrate #Winter #FernieChamber #FernieBC #Canada
Media Contact:
Wendy McDougall – Executive Director
wendy@ferniechamber.com
250-423-6868