Member Spotlight | Fernie Chrysler
Meet Fernie Chamber Member Fernie Chrysler. They have been in business in Fernie for 20 years this September! We caught up with General Manager,  Shawn Potyok who has been with the company for 17 years to hear about what their business is all about and Shawn's experience working for them 17 years!

I first took over as General Manager of our store in 2006.  I had been in the industry for about 5 years and there were several aspects of it that I knew were stressful for customers. Having watched many incidents where people who came into the places I had been at, or for that matter where I had shopped previous to joining the industry, left very frustrated and unhappy with their experience.
What I strive for with Fernie Chrysler is to make the buying process more transparent, more comfortable.  A line that is quite regularly heard from every dealer now but rarely followed through on. Aside from buying a house, buying a vehicle for 10s of thousands of dollars is a monumental investment of hard earned dollars.  It shouldn't have to be something we hate to go do because we feel like we are going to get taken advantage of by somebody.
We have avoided taking everything digital, meaning that when you sit with somebody here to review purchase numbers it's all on a worksheet, black and white and easy to make out what's being discussed.  When your trade is appraised our sales manager comes out and sits with you to go through where the trade value numbers were gathered, examples are shown from several different areas.  Blackbook, Auctions, Autotrader, KIJIJI etc. So you know why your trade has the wholesale value it does and don't wonder whether you are getting a fair price for your vehicle.  The atmosphere is very casual, you will be hard pressed to find a suit and tie here.  Just regular people who are here to help you find a vehicle that will suit your needs.
My Service department is much the same.  Even though for the people that work on that counter, the days are very stressful, they understand why people are upset and make every effort to help the best they can.  We have recently implemented a program called SnapCell that has the technician actually video himself showing you what has been found.  Walking through the areas of concern and explaining what should be done to prevent further damage to your vehicle or to let you know and show you why it's dangerous.  The customer then knows and has seen everything and can make a confident and fully informed decision without wondering if what they have been told is actually on the level.  The video is sent directly to their phone by text so they can decide to have the work done on the spot if they choose.
It's easy to preach being open and honest.  Every dealer in North America does it.  Our industry needs to follow through on those promises.
What's one thing – either industry-related or not – you learned in the last month?
It's hard to say, with everything that we are currently experiencing on a daily basis I'd say that I learn something new daily.  My people teach me new things everyday as I fill in for somebody who has to stay home with a loved one that is sick, my customers teach me humility and further understanding as they bring their lives and their stories into our store each day. Balancing the new ongoing challenges of running a company during ongoing restriction changes and the emotions that come from both customers and employees as those are announced. I'd say that one month is really a drop in the bucket for the learning curve for any person that runs a business.  This is new territory for everyone, an open mind with a lot of patience and understanding will be the biggest lesson.
What do you love most about your industry?
Top for me would be when our customers express to my people how much they appreciated all that was done to help them.  I can take that home each day and know that we did well that day.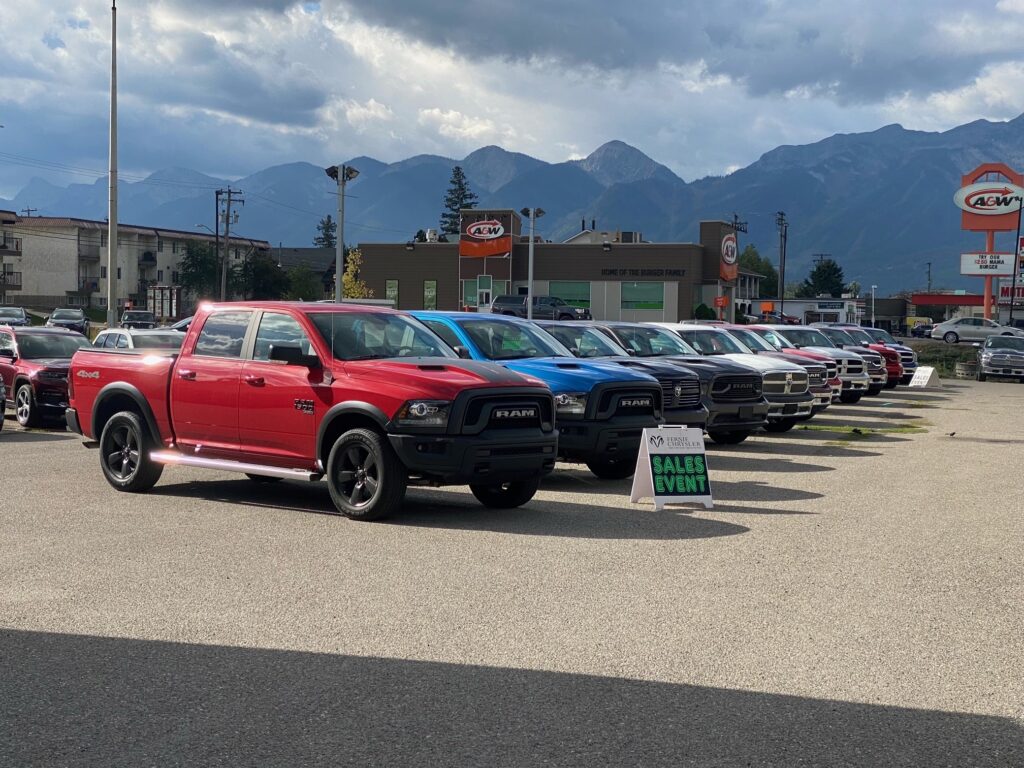 How do you define success?
I think most would say happy clientele here.  In truth I believe that happy customers are a result of a management that values their employees above all else and treats them like gold.  If the people who put themselves on the line for your company know they are appreciated and will be taken care of, that passes along to your customers.  Success is a team that enjoys their work environment.  That doesn't mean that their will never be a time that somebody struggles.  That's when management steps in and works with them to help. I love my team here at Fernie Chrysler, they are my family away from home and that's how they are treated.
What are you most excited for in the future?
Hmmm…..well, my crystal ball broke when I fell out of the womb so……I guess I'd say a country that finds it's way back to being more unified regardless of our neighbors point of view.
Stay connected by following on Facebook and  Instagram
A full list of Fernie Chamber members can be found on our business directory here.
Interested in becoming a Chamber member? Check out full benefits here.