The 46th annual Griz Days announced for March 3 – 5, 2023 in Fernie, B.C.
The Fernie Chamber of Commerce is excited to announce the return of Fernie's biggest winter festival in the
new year. The 46th annual Griz Days celebration will take place the weekend of March 3 – 5, 2023.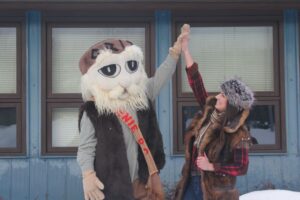 The Fernie Chamber of Commerce acknowledges that its office and the Griz Days events take place on the
traditional, ancestral and unceded territory of The Traditional Territory of the Ktunaxa Nation.
We thank the Ktunaxa and all First Nations who continue to live on these lands and care for them, along with the
waters and all that is above and below.
The Griz pin design for this winter's Griz Days is attached to this release, with this year's festival being themed
'Griz Gone Corduroy', we encourage the community to dress in full corduroy as a tribute to a fashion staple that
has endured the test of time, as well as to pay homage to those savory first tracks on freshly groomed corduroy
snow at the ski hill! We are in full swing planning all your favorite Griz Days events like the parade, live
entertainment, lumberjack show, fireworks, the Extreme Griz competition and much more to be announced!
Check out the satellite events around town too, like the popular Dummy Downhill at Fernie Alpine Resort.
If your business or organization is interested in putting on a satellite event in conjunction with Griz Days please
contact Jess Eberts, Events Manager at events@ferniechamber.com for more details.
Wendy McDougall (Executive Director of the Fernie Chamber) says, "We are thrilled to be hosting Fernie's
favorite winter festival in all its glory. We are bringing back some classic events like the bed races and the
smoosh ski races and of course the beer gardens! Griz Days is a magical time for locals and visitors alike, with so
many activities all weekend long and for all ages, it truly is an event not to be missed!"
The Fernie Chamber of Commerce is grateful to Teck, the title sponsor for the 46th annual Griz Days this winter.
The Chamber is still seeking for additional sponsors and volunteers to make this event a success, for more
details please contact Jesse Ross at jesse@ferniechamber.com.
The Fernie Chamber would also like to acknowledge the support of the Province of British Columbia's Resort
Municipality Initiative, as well as support from the Regional District of East Kootenay.
The Chamber is also excited to announce the new and improved ferniegrizdays.com is now live! Find details on
the event, sponsorships, volunteering, Extreme Griz, Parade and everything else Griz Days.
The Fernie Chamber thanks all the sponsors, funders, volunteers, and community groups in advance who have
helped keep this tradition going for 46 years! We could not do it without you!
Media Contact:
Wendy McDougall | Executive Director
wendy@ferniechamber.com
250-423-6868