New Provincial Health Orders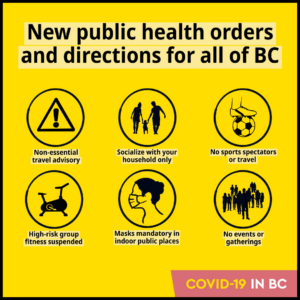 Late yesterday BC Provincial Health Officer Dr. Bonnie Henry announced a new set of province-wide health orders and guidelines to address increasing cases of COVID-19 in the second wave of the pandemic. You can read the full announcement on the province-wide restrictions 
here
. The order is in effect from November 19, 2020 at midnight to December 7, 2020 at midnight.
I have summarized the key points to note below:
Social gatherings and events
No social gatherings of any size with anyone other than your household or core bubble.
For example:
•    Do not invite friends or extended family to your household
•    Do not gather outdoors
•    Do not gather in your backyard
•    Do not have playdates for children
All events and community-based gatherings as defined in the PHO order – Gatherings and Events (PDF) are suspended. For example:
•    Galas
•    Musical or theatre performances
•    Seasonal activities
•    Silent auctions
Mask requirements
Masks are now required for everyone in all public indoor settings and workplaces. People who cannot wear a mask or who cannot put on or remove a mask on their own are exempt.
•    Employers are expected to enforce the mandatory mask policy with both employees and customers
•    A customer can be refused entry or service if they do not wear a mask
Masks are required in all indoor public settings and all retail stores. This includes:
•    Malls, shopping centres
•    Grocery stores
•    Coffee shops
•    Common areas in hotels
•    Libraries
•    Clothing stores
•    Liquor stores
•    Drug stores
•    Community centres
•    Recreation centres
•    City Halls
•    Restaurants and bars when not seated at a table
Masks are required in all workplaces for shared work areas and areas where physical distancing cannot be maintained. This includes:
•    Elevators
•    Kitchens
•    Customer counters
•    Break rooms
•    Hallways
•    Meeting rooms with more than four people
Travel advisory
At this time, all non-essential travel should be avoided. This includes travel into and out of B.C. and between regions of the province. For example:
•    Do not travel for a vacation
•    Do not travel to visit friends or family outside of your household or core bubble
Individual circumstances may affect whether a particular trip is considered essential or non-essential. Essential travel within B.C. includes:
•    Regular travel for work within your region
•    Travel for things like medical appointment and hospital visits
For example, if you live in Vancouver and work in Surrey you can continue to commute.
If you need to travel for essential reasons, take the same health and safety precautions you do at home.
•    Wash your hands often
•    Practice safe distancing, 2 m
•    Travel only with yourself, household or pandemic bubble
•    Stick to the outdoors whenever possible
•    Clean spaces often
Ski and snowboard at your local mountain. For example, if you live in Vancouver, you should ski at Cypress, Grouse or Mt. Seymour.
Enforcement
During a public health emergency under the Public Health Act, the PHO can make orders as needed. You must follow the orders.
Under the Government's Emergency Program Act, some orders can be enforced by police or other compliance and enforcement officials. People who don't follow these order could be fined.
The Fernie Chamber of Commerce continues to stress the importance of all of us adhering to the new public health directives. If we can get a handle on the rising pressure on our health care system now, we can all hopefully look forward to the holidays and a successful ski season with less restrictions. Please help keep us OPEN for business.

We strongly urge all Fernie businesses to revisit their COVID-19 safety plans for their workplaces at this point. Adjustments will need to be made based on yesterday's news and your new safety plan will need to be published on your website.

I am reminding our members of these three authoritative resources for local BC businesses as we navigate through this latest stage of the pandemic:

Work Safe BC (www.worksafebc.com)

The province's definitive resource for health and safety in the workplace during the pandemic. There is a wealth of information including industry-specific advice on creating and updating workplace COVID-19 safety plans and protocols.

Destination BC (www.destinationbc.ca)

The provincial tourism Crown corporation has been providing industry with countless resources and education opportunities through the pandemic and is an excellent reference point for local Fernie businesses.

Canadian Business Resiliency Network (www.cbrn.ca)   

Developed by the Canadian Chamber of Commerce in partnership with the federal government, this website contains information, analysis and a directory of helpful advice, reopening toolkits, financial supports, and other recovery information.

The local Fernie business community has shown a great deal of patience, resilience and determination to keep our community open and safe. We will get through this second wave together. Do not hesitate to reach out if you need additional support. We are here for you.

Be kind. Be calm. Be safe.