Griz Days 2022 Road Closures
Griz Days 2022 is only a few days away and the annual downtown parade is returning to the Fernie
downtown core this Saturday afternoon, along with festivities in Station Square. The Fernie Chamber of Commerce wishes to advise the community of the parade route and associated temporary road closures or modifications in effect for Griz Days now that the City of Fernie has given their approval.
To support events taking place in Station Square, 1st Avenue will be closed from 5th Street to 6th Street all day on Saturday 5 March, with limited vehicular access to this area from Thursday 3 March to Sunday 6 March. Businesses and the public are asked to avoid parking in the Station Square area of the downtown core for the duration of the festival.
On Saturday 5 March, events will start in Station Square at 2:00pm at which time the City of Fernie will begin closing 2nd Avenue for the Griz Goes Wild Parade. The closures for the parade are outlined in the map below and attached. The parade route will mean the closure of 2nd Avenue from the corner of 8th Street (outside Barkside) to the corner of 5th Street (outside the Fernie Museum) from 2:00pm in preparation for the parade. The parade route will then turn right along 5th Street to 3rd Avenue, and will turn right again on to 3rd Avenue, which will be closed from 5th Street to 8th Street.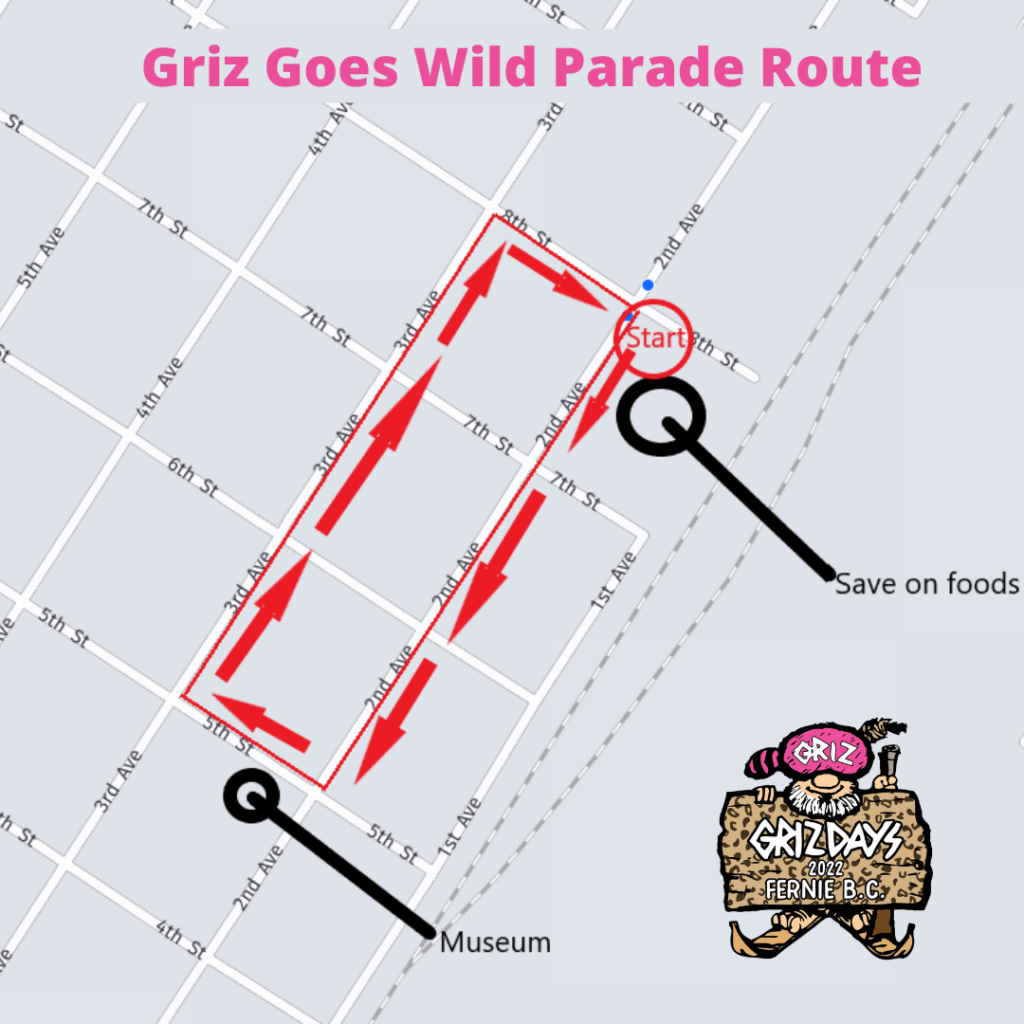 The parade route has been modified this year to support physical distancing along the entirety of the route, and to account for feedback from the community in previous years. These full closures will be in effect from 5:00pm to 7:00pm, with the parade commencing at 6:30pm. Please note that access to Save On Foods will be via their parking lot entrance on 8th Street for the duration of the closures. Parade floats and participants in the parade will gather from 5:30pm along 8th Street (between 2nd Avenue and 3rd Avenue).
We thank the public for their cooperation in keeping these routes clear for the parade, and for abiding by all signage and direction given by City of Fernie staff and Griz Days volunteers.
Check out the full Griz Days schedule of events and activities at www.ferniegrizdays.com