Fernie Chamber 2020 Business Pulse Check Results
In January 2020, the Chamber of Commerce starting the Fernie Business Pulse check to collect more information directly from our members to allow us to tailor our programming, advocacy efforts and frame conversations about future economic development in Fernie and area. The Pulse Check is a quick one minute survey sent to our members at the beginning of each month to get a sense of how their revenue compares to the same month of the previous year, where they are at with staffing and what professional development topics interest them. This is important to be able to have our finger on the pulse with how our members are doing and how we can provide meaningful support.
This was an interesting year to begin collecting data and you can see trends within the data based on what was happening with the pandemic and season shifts (which was expected).
Throughout 2020 we had 332 surveys completed averaging 28 per month. We hope that our members see value in completing this survey each month and we will see an increase in engagement throughout 2021.
Below are the results:
Question 1: 
Compared to the same month last year, was your gross revenue/sales this past month up, down, or similar?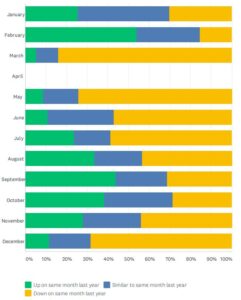 The above graph visually demonstrates what we heard loud and clear throughout the pandemic. Most businesses who took the survey were down in revenue (compared to the same month the year before) during the first wave of the pandemic in March and May (a survey was not sent out in the month of April as we all reacted). We then see revenues on average get slightly better over summer – peaking in September and October. Of course, the second wave of the pandemic and restrictions introduced in BC in November led to December being as difficult as the first shut down for surveyed businesses.
Question 2: 
How many vacant job positions do you have in your company right now? (includes full-time, part-time, and casual positions)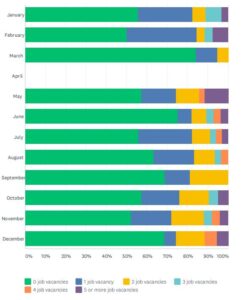 Question 3: 
If you were to take a course or workshop to improve your business performance, what topic would you be most relevant to you? 
Top three (3) topics for 2020:
Marketing, advertising, and branding
Growing your business
Accounting and financial management
Looking at this data helped us schedule our virtual workshops in 2020; we held a marketing and branding workshop (Modern Marketing for Small Businesses on October  21st 2020), Accounting and financial management (Cash Flow Management on November 24th 2020) and we started off 2021 with support to Grow your business with the Building Resilience to Thrive Program in partnership with the BC Chamber of Commerce (there's still one cohort of this program left, register here for the session starting March 22nd!). We will continue to watch the data coming in throughout the year to look for opportunities to bring you meaningful professional development workshops and info sessions.
Question 4: 
Are you confident about the next 12 months for your business?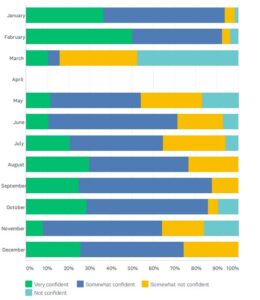 Question 5: 
What sector best describes your business? 
| Sector  | Average % for all 2020 |
| --- | --- |
| Accommodation/Tourism Operator | 26% |
| Food and Beverage | 20% |
| Retail | 11% |
| Construction/trades/real estate | 11% |
| Business and Financial Services | 3% |
| Health and Wellness | 9% |
| Other | 20% |
As shown above, you can see that there is a wide range of businesses engaging with this platform and we hope to see this continue into 2021.